South Portland, Maine completes multi-phase solar project on capped landfill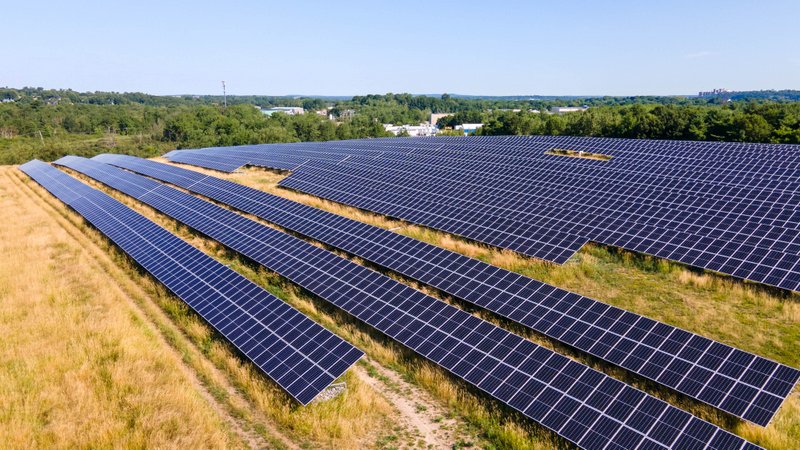 The City of South Portland, Maine, and ReVision Energy have completed a 4.7 MW solar project in a capped landfill, expected to offset 63% of the city's municipal electrical load. In total, more than 80% of the city's municipal electricity load will now be offset by solar energy.
The three-phase project began in 2017 with a 1 MWdc generator, which was, at the time, the largest municipal solar project in Maine. In 2022, the expansion of "Landfill East" and the addition of "Landfill West" added 474 kWdp and 3.25 MWdp to the total project.
Combined, these solar projects have the greatest energy potential of any solar array built on a municipal landfill in the state, according to Maine DEP.
"The City of South Portland is thrilled to announce the completion of this multi-phased project," said City Manager Scott Morelli. "Thanks to this extraordinary collaborative effort, solar energy now powers the vast majority of municipal operations – a win for the environment and taxpayers."
Terms of Agreement | The project was financed through power purchase agreements (PPAs) managed by ReVision Energy. Calibrant Energy paid the initial cost, and the city will pay for the electricity generated by the solar panels each month at a lower rate than the electricity supplied by the utilities. After seven years, the city has the option of purchasing the system at a reduced price and owning all of the solar power generated for the remainder of the warranty period and 40-year commercial life.
"Providing sustainable solar power with flexible financing will bring economic and environmental benefits to the region for decades to come," said Thomas Biddinger, Director of Partnerships at Calibrant Energy. "This project is closely aligned with Calibrant Energy's commitment to providing long-term energy solutions designed for performance and sustainability."
Long term plan | Dozens of local electricians, apprentice electricians, engineers and other solar professionals were employed in the development and construction of the solar panels. Beginning in 2013, ReVision Energy, the City of South Portland and the City of Portland spent four years in a collaborative planning partnership before the first solar array was built in 2017.
"Because the cost of solar technology has dropped 90% over the past two decades, the City of South Portland and its citizens will reap a strong economic and environmental return on this solar investment," said Phil Coupe, co-founder of ReVision Energy. . "And perhaps best of all, the recently passed Cut Inflation Act will further reduce clean energy costs in 2023 and beyond, making solar power, heat pumps, battery storage and electric vehicles the most attractive options for homeowners, businesses, nonprofits and municipalities."
Have you checked out our YouTube page?

We have a ton of video interviews and additional content on our YouTube page. Recently we debuted Power forward! — a collaboration with BayWa re to discuss high-level industry topics as well as best practices/trends for running a solar business today.
Our longer side project is Field — in which we have awkward discussions with solar manufacturers and suppliers about their new technologies and ideas so you don't have to. We discuss everything from fixing a trackless residential deck and financing home solar power to stacking utility-scale energy storage value and new piloted home solar and storage microgrids. by public services.
Tags: commercial and industrial, landfill, municipal, Energy Review