Experts call for on-the-spot data entry when vaccinating children against Covid-19 – Pakistan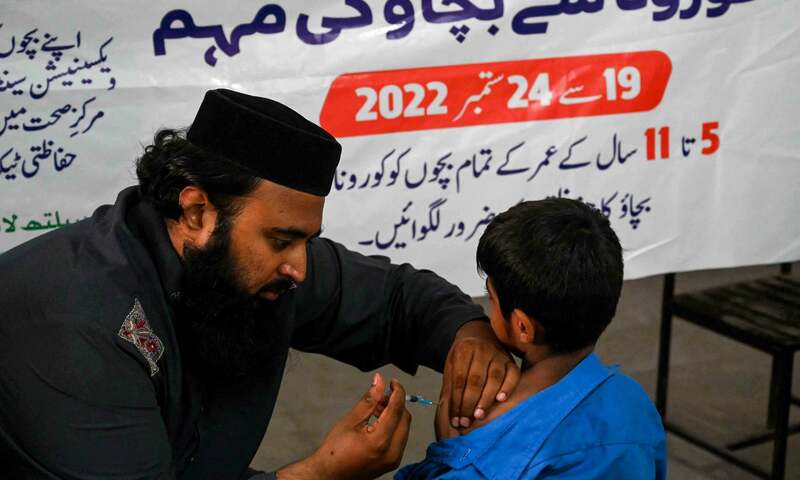 ISLAMABAD: As the government has started vaccinating children aged 5-11 against Covid-19, health experts fear there is a strong possibility that some children will receive two doses in less than 21 days, the minimum time required for the administration of a second dose.
Although experts say it has no adverse effect on children's health or the effectiveness of the vaccine, they believe that a system of on-site data entry and finger marking should be introduced to avoid the administration of two doses to children and to follow the standard operating procedure (SOP) which is in practice all over the world.
Saying it is better to have two doses than none, experts are now suggesting that children who have already been vaccinated twice should consider that they have received two doses and should now opt for the booster dose after six months.
The government started vaccination of children aged between five and 11 on September 19 in some districts of Punjab, Sindh and Islamabad, and to this end it has formed teams to visit homes, schools and places public.
Saying that there is a good chance that some children will receive a second dose before the stipulated time
It was decided that children will be vaccinated with two doses of the vaccine with an interval of 21-56 days.
Vaccinators visited communities, schools, religious seminaries and facility is provided in mass vaccination centers to cater for the maximum number of children.
However, to avoid the risks of refusal and to increase the level of acceptance of the vaccination, it was decided that the vaccine will be administered after obtaining the consent of the parents.
Although consent forms are mandatory for vaccination, it has been observed that some parents allow their children to be vaccinated at home despite having already sent consent forms to schools.
A senior Department of National Health Services (NHS) official, asking not to be quoted, said teams of vaccinators were visiting a number of places due to which it was quite possible that some children would be vaccinated twice.
"Parents have their children vaccinated at mass vaccination centers and then children can be vaccinated again in schools because usually in educational institutions, students are vaccinated and data entry is done in the evening. Similarly, a child can be vaccinated twice by union teams and in schools. Five- and six-year-olds can't say they've been vaccinated before," he said.
However, member of the scientific task force on Covid-19, Dr Javed Akram, while speaking to Dawnsaid it was better to have two doses of vaccine instead of none.
"But the risks of double vaccination in less than 21 days can be avoided by introducing on-site data entry and finger marking. If online data entry were introduced, there would be no chance of a child being vaccinated twice. Also, these days there are inks that stay on the fingers for four to six weeks, so finger marking should be used for this age group of children," he said.
"However, those who have been inoculated twice, they should not worry and consider that they have received the second dose and should wait six months and then receive the booster dose," he said.
NCOC member and Vice Chancellor of the Academy of Health Services Dr Shahzad Ali Khan said some parents are confused that their children have been vaccinated twice while the measles campaign is also underway and that the parents take it as an injection of Covid-19.
Microbiologist Prof Dr Javaid Usman said Dawn that although ideally this should not happen, parents of children who have been vaccinated twice need not worry.
"The vaccine is made up of dead virus and if 20 particles are given, instead of 10, it doesn't matter," he said.
It is worth mentioning that in February this year, the NCOC had decided to approach Covax to start vaccinating children between the ages of five and 11 (numbering 43.7 million) against Covid-19.
Covax is an alliance that was created by the Global Alliance for Vaccines and Immunizations (GAVI), the Coalition for Epidemic Preparedness Innovations (CEPI) and the World Health Organization (WHO) in April 2020.
He had pledged to provide free vaccines to 20% of the population of around 190 countries, including Pakistan.
The country has already received a large number of shipments of different vaccines under the Covax arrangement.
Posted in Dawn, September 23, 2022